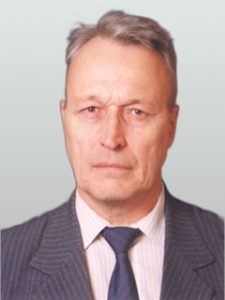 Professor of the Department of Computer Radio Engineering and Technical Information Security Systems, Professor of Radiotechnologies Information and Communication Systems Department, Doctor of Technical Sciences, Professor
Education and Career
1960 Graduated from the National Technical University "Kharkiv Polytechnic Institute" (NTU "KhPI"), specializing in the design and technology of radio equipment production.
1960-1971 He worked as a junior researcher, senior engineer – group leader, chief engineer of the department of the O.Ya. Usikov Institute for Radiophysics and Electronics (IRE) of the Academy of Sciences of the Ukrainian SSR.
1962 – 1971 On terms of hourly payment and part-time he worked at the radio engineering faculty of Kharkov Aviation Institute (KhAI). 
1971 The KPI Council awarded the degree of candidate of technical sciences.
1971 – 1974 He worked as a senior lecturer, associate professor of KhAI.
1974 By the decision of the USSR HAC approved in the academic rank of associate Professor at the Department of designing and production of radio equipment.
1974-1980 Worked as the head of Department, the Deputy chief on OKR of Special design and technology Bureau (SKTB) IRE of Academy of Sciences of USSR.
From 1980 to the present works as head of Department of processing of signals O.Ya. Usikov Institute for Radiophysics and Electronics (IRE NASU).
Since 1997 he has been working part-time as a Professor at the departments of Kharkiv National University of Radioelectronics (NURE).
1993 By the decision of the specialized Scientific Council of KhAI awarded the degree of doctor of technical Sciences.
2000 By the decision of the Scientific Council of the state technical University of radio electronics was awarded the academic title of Professor of the University in the Department of electronic systems.
In 2007, The decision of the Certification Board of the Ministry of education and science of Ukraine awarded the academic title of Professor of radioelectronic systems.
---
Educational activity
In the period of cooperation with KhAI, he taught the courses "Design of electronic equipment of aircraft", "Radio transmitting devices for aircraft", " Radio receiving device for aircraft".
During cooperation with NURE he teaches courses "Radiophysical methods of technical diagnostics", "Radio Electronic systems", "Optimization of design of radio-electronic systems", "Methods of Decision-Making in Information and Measurement Systems".
---
Research activities
1960-1971 Head of the group for the development of microwave devices millimeter range and precision measurement systems.
1972-1974 Improvement of radio transmission and radio systems of aircraft.
1975-1993. Research of methods of precision measurements in the conditions of multipath propagation of radio waves.
1994 – 2017 The impact of the environment and complex reflectors on remote diagnostics during retransmission and radar sounding and meteor radio communication.
---
International activity / participation in international projects
1997-1999 The Chiefof the Project No 150 STCU "Precision radar measurements at millimeter waves nearby outside reflectors and Boundery Surfase".
2003 – 2006 The Chiefof the Project No 2116 "Precise radar measurements for checking condition and for scheduled preventive maintenance of water-moderated power reactors".
---
State Awards
1990 – Laureate of the USSR Council of Ministers Prize in radio electronics.