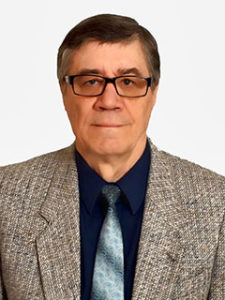 Professor of the Department of Computer Radio Engineering and Technical Information Security Systems, Doctor of Physical and Mathematical Sciences, Professor
Education and Career
In 1968 graduated from the Kharkov Institute of Radio Electronics specialty "Radio Engineering"
Ph.D. – 1986. Thesis defended 23 January 1986 at the Research Institute "Radiofizika" (Moscow) named after academician A.Raspletin.
Doctor of Sciences – 2005. Thesis defended June 26, 2005 in Kharkiv National University of Radio Electronics. Specialty 01.04.03 – Radio Physics. The subject of thesis – A Theory of Radiating Systems with Joule and Polarization Losses.
Professor of the department of Fundamental Radio Engineering (FRE) since 2007.
The main stages of pedagogical activity:
Since 1992 – Lecturer, Department of Technical Electrodynamics & Antennas (TEA), Kharkov Institute of Radio Electronics.
Since 1993 – Associate Professor, TEA department.
Since 1992 – Doctoral student of TEA department.
Since 1993 – Associate Professor, TEA department.
Since 2006 – Professor of FRE department (KhNURE).
Since 2009 – part time Professor of FRE department (since 2017 – CRE&TISS department).
---
Educational activity
Teaching courses: "Technical Electrodynamics", "Microwave Devices & Antennas", "Electrodynamics and Waves Propagation", "Physics – Electromagnetism", "Fundamentals of computer-aided design of radio equipments", "Mathematical methods of modeling and optimization of signals and systems", "Fundamentals of computer-aided design and modeling of telecommunication & radio facilities"
---
Research activities
Since 1969 until 1992 – engineer, senior engineer, researcher assistant, senior researcher, head of scientific laboratory at the TEA department (KhIRE).
He took part in the performance of scientific works on special subjects as a performer and a responsible performer.
Since 1997 until 1992 he was the research manager of the research project no.485-3 "Creation of planar reflector antennas for wide-area radio electronic systems, including satellite television, and development of a methodology for metrological support of such antennas", the research project no.532-1 "Investigation of the properties of radiating systems with dissipative elements, and the construction of a theory of such systems with a correct account for the Joule and polarization losses in them", the research project no.116-7 "Investigation and construction of the theory of radiating systems with appreciable Joule losses in their elements", the research project no.153-8 "Analysis of the polarization losses of the power in radiating systems and the search for ways to reduce them", the research project "GRONO", contract with Ministry of Education and Science of Ukraine no. 2/1299 of September 17, 1997
Since 2009 – leading staff scientist of the Institute of Radio Astronomy of National Academy of sciences of Ukraine
---
International activity / participation in international projects
Participated in the follow projects:
Project International de Cooperation Scientifique (CNRS Program for International Scientific Cooperation) France-Ukraine (2010-2012) "Development of the low frequency radio astronomy with ultra-high sensitivity and resolutions"
The project France-Ukraine (2015-2016) "Coordinated observations of radio transients with the largest low-frequency radio telescopes of new generation" funded by the Scientific Council of Observatoire de Paris.
---
Publications and patents
Has over 130 scientific publications, including a monograph, has 3 inventor's certificates of Ukraine