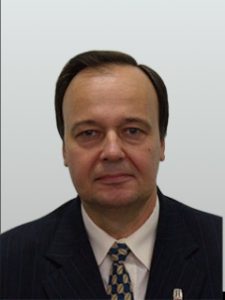 Dean of Faculty IRTIS, Professor of the Department of Computer Radio Engineering and Technical Information Security Systems, Member of EMC, Member of STC, Member of the Coordination Council of the NURE Alumni Association, Candidate of Technical Sciences, Associate professor, Senior Researcher
Education and Career
1977 – graduated from the Kharkiv Institute of Radioelectronics (KhIRE), majoring in Radio Engineering.
1977-1993 – Engineer, Junior Researcher, Senior Researcher of the research section of the Institute.
1988 – PhD in Technical Sciences, specialty 05.12.21 – radio engineering systems for special purposes, including microwave technology and technology of their production, defended the thesis in KhIRE.
Since 1992 – senior research officer.
2000 – associate professor.
2001 – professor of the university.
1993 – assistant of the department of technical electrodynamics and antennas of the Kharkiv.
State Technical University of Radioelectronics (KhTURE).
1996 – Associate Professor of the Department of Radio Engineering (since 2016 – Department of Computer Radioengineering and Systems of Technical Information Protection) Kharkiv National University of Radio Electronics (KhNURE).
---
Educational activity
Teaches the training course "Microwave radiometric systems".
---
Research activities
Scientific adviser of the candidate of technical sciences degree – one candidate thesis is defended.
---
International activity / participation in international projects
Participation in implementation of international academic and scientific cooperation with Limoges University (France).
---
Publications and patents
More than 60 published works, has 2 copyright certificates of the USSR, 1 patent of Ukraine.